Paula Keller Smith, Owner/Manager Keller Strings LLC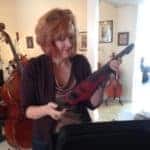 Second generation violin shop entrepreneur since May 1990. Owned and operated Keller Strings, Inc., (Violin family instruments, bows, repair and restoration, instructional studios, rentals) in the Midwest region.
Created and marketed  WildHair®, dyed horsehair for wholesale and retail  1995 – 2010
Mentors and instructors: Frank Keller (Father, deceased); L. Gene Bearden, Owner Bearden Violin Shop St. Louis, Missouri, International Society of Violin and Bow makers; Lynn Armour Hannings, Bowmaker, Member- American Federation of Violin and Bow Makers.
Favorite skills: Customer service, bows (rehairing and restoration), varnish touchup
John W. Smith, Owner/Manager Keller Strings
LLC
Violin Shop sales and restoration since May 1991. Keller Strings, Inc., (Violin family instruments, bows, repair and restoration, instructional studios, rentals) in the Midwest region.
Trained under Frank Keller, Horst Klaus, Violin Maker, Boston;  Gene Bearden, Violin Maker, St Louis
Favorite skills: restoration – violins, violas, and cellos. Finding the correct instrument for my customers. Favorite repair: button graft/sound post patch.
Danielle Ryce, Website Manager/Customer Assistance:
Graduate of Loyola University, where she majored in Music Industry & Music Performance,
with a concentration in violin performance.
Danielle co-leads the indie adventurous-pop group Nyce!, in which she plays violin as well as sings. Danielle performs with various original music groups in the city, as well as performs on Frenchmen and in the Quarter singing & playing jazz and covers.
Danielle teaches violin here at Keller Strings, and enjoys watching her studio grow.
Outside of Keller Strings and music, Danielle enjoys creating art, running, The Office, and cooking with friends.