Keller Strings' Month of Black Fridays
Special Pricing on In-stock Pernambuco Bows
From Germany, Brazil & China
For Violin, Viola, & Cello
Save up to 40%
(Not applicable with any other discounts or equity)
Three days only:
Friday, November 16th
Saturday, November 17th
Sunday, November 18th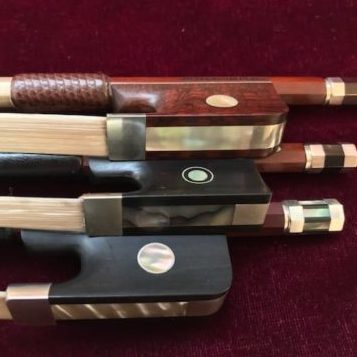 Sales Event Hours:
Friday & Saturday 10-4
Sunday Noon-4
View a sampling of our sale bows below!
Fourth generation German makers, W. Dörfler  Bows exercise a maximum of influence to sound, purity, strength and polish of the tone. It is only the Dörfler Bow which enables the art of playing to be put into its true light. Model D017 Pernambuco Octagonal Cello bow: fully lined silver, three-part button. Cello Bow 82g $610. SALE $518.
A best seller from Howard Core comes this sturdy octagonal 
Violin
 Bow made in China. The "whalebone" winding is a handsome addition. Solid silver button, and weighs in at 136g $260. SALE $220.
The Brazilian Bow makers from Atelier Casara work  under  Mr. Renato Casara's personal supervision – he has been making bows since 1998. This significant Cello Bow features a round, pernambuco stick, a half lined frog, with an Mother-of-pearl slide, Large Parisian eye, 3 part button. 81g $595. SALE $475.